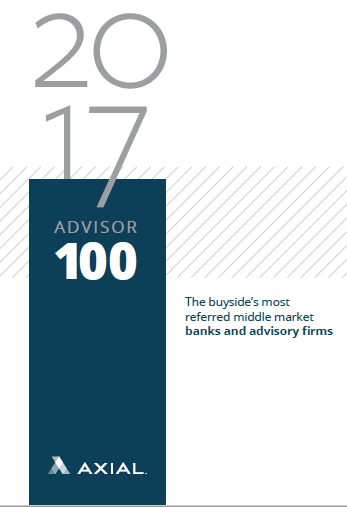 Recently, Axial, one of the nation's largest networks made up of middle market investors, advisors, and CEOs set out to find the very best middle market banks and M&A advisory firms in the U.S. for 2017 based on referrals. They sought "recommendations from the people who worked alongside and across the negotiating table from countless advisors."  They asked "1,000 private equity firms, strategic acquirers and family offices to name the banks and advisors they trust and respect the most when transacting in the middle market."
They ended up with 120 firms which included bankers and advisors of various size and industry specializations as well as firms with a diverse range of clientele who cover the middle market. The firms named in the Top 100 List are included for their excellence as referred to Axial directly by the deal makers themselves to form their inaugural list.
Transworld is very proud to announce that it has been included in Axial's 2017 Advisor 100 List for Most Referred Middle Market Advisory Firms.
Representative Transactions included:
"Countertop Company Specializing in Fabrication and Installation" Acquired by R&R Granite and Flooring
Bobo Engineering, Inc. Acquired by Global Special Effects
Transworld is listed as a U.S. & Global Advisory Firm with 20+ Senior Advisors within the "Industries: Generalist" category.
About Axial
Axial is an online marketplace that connects those that run, buy, sell, and advise private companies. More than 11,000 firms use Axial's real-time network to identify, connect to, and close M&A and growth financing deals. Axial is designed to serve companies with annual revenues between $5 million and $200 million.
About Transworld M&A Advisors, LLC
Transworld M&A Advisors is a wholly owned subsidiary of Transworld Business Brokers, LLC, Florida's largest business brokerage firm with 9 offices around Florida and over 100 professionals. Last year, Transworld completed 359 closed business transactions throughout the State of Florida.
Transworld M&A Advisors specializes in the sale of businesses with more than $5 million in Revenues.
Transworld is also a principal shareholder of Transworld Business Advisors which is the fastest growing Business Brokerage firm in the country with over 130 offices in 34 states and 12 countries. For more information, contact us via email or 1-888-864-6610.
For more information about Transworld M&A Advisors go to www.transworldma.com.